The effects of years of environmental negligence are now being felt by the world, putting it in a dangerous position. The consequences of climate change are already being felt, altering ecosystems, economies, and our very way of life. It is no longer necessary to stay away from them. In the under section, we have explained the latest developments after global climate change.
Global Climate Change
The evidence for global climate change has gotten stronger over the past few years. As shown by increased temperatures, harsh weather, ice caps melting, and disturbed ecosystems, climate change is real. The strength of the scientific agreement has forced businesses, governments, and people all around the world to acknowledge how urgently the climate problem needs to be addressed.
Read Also: Eco-Friendly Practices for Responsible Travel
The Latest Developments After Global Climate Change
In the under section, we have explained the latest developments after global climate change:
Effects on Ecosystems
Ecosystems worldwide are experiencing profound shifts. Rising temperatures and changing precipitation patterns are disrupting habitats and threatening numerous species with extinction.
Efforts to mitigate these effects include the establishment of protected areas, reforestation initiatives, and collaborative research to understand and preserve biodiversity.
The world's oceans, crucial regulators of climate, are undergoing significant transformations.
A few effects include the bleaching of coral reefs, ocean acidification, and rising sea levels.
Innovations such as marine conservation technologies, sustainable fishing practices, and the development of coral nurseries are emerging to counteract these threats.
Economic Realities
The global shift towards sustainable energy is one of the most promising developments.
Solar and wind energy technologies are experiencing exponential growth, with countries investing heavily in renewable infrastructure.
Advancements in energy storage, smart grids, and electric transportation contribute to a cleaner, more sustainable energy landscape.
The Rise of Green Finance
Financial institutions are recognizing the risks associated with climate change.
Green finance initiatives are gaining traction, with investors increasingly prioritizing environmentally responsible projects.
Sustainable bonds, green loans, and impact investing are reshaping the financial sector, directing capital towards initiatives that align with climate goals.
Societal Responses
The climate crisis has ignited a wave of activism and advocacy.
Youth-led movements, such as Fridays for Future, are demanding urgent action from governments and corporations.
Social media platforms have become powerful tools for raising awareness and mobilizing global support for climate initiatives.
Local Solutions
Communities around the world are implementing grassroots solutions to address climate challenges.
From sustainable agriculture practices to community-based renewable energy projects, local initiatives are contributing to a more resilient and sustainable future.
City-level efforts, such as the C40 Cities Climate Leadership Group, showcase how urban centers are taking the lead in implementing innovative solutions to combat climate change.
Technological Innovations
As carbon emissions remain a central challenge, technological solutions like carbon capture and removal are gaining prominence.
Innovations range from direct air capture technologies to natural solutions like afforestation and soil carbon sequestration.
Governments and private entities are investing in research and development to scale up these technologies and make them more accessible.
Climate-Resilient Agriculture
Agriculture is both a victim and a contributor to climate change.
The latest developments in climate-resilient agriculture focus on sustainable practices, precision farming, and the development of climate-resistant crop varieties.
Smart farming technologies, including sensors and data analytics, are helping farmers adapt to changing climate conditions and reduce environmental impacts.
Climate Adaptation Technologies
As the impacts of climate change intensify, the need for adaptive technologies becomes crucial.
Innovations in climate-resilient agriculture, water management, and infrastructure are helping communities better cope with extreme weather events.
From drought-resistant crops to smart flood defenses, technology is playing a pivotal role in enhancing our ability to adapt to a changing climate.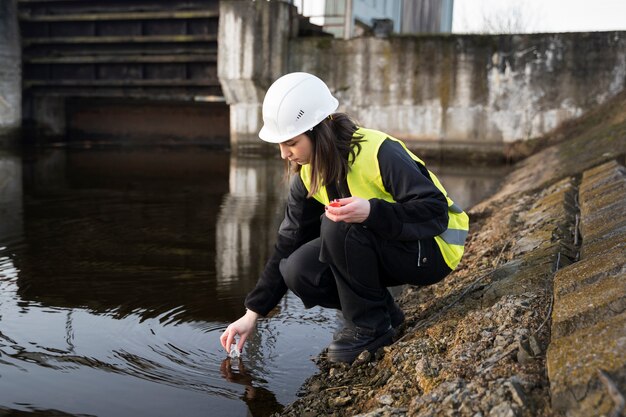 Circular Economy Practices
The traditional linear production and consumption model gives way to a circular economy where resources are more efficient.
Recycling, upcycling, and the development of sustainable materials are reducing the environmental footprint of industries.
Circular business models are gaining traction, promoting a more responsible and regenerative approach to economic activity.
Opportunities and Difficulties
There is a disparity in the effects of climate change. People in need, often those with the lowest carbon emissions, are disproportionately affected by climate-related disasters.
Addressing global inequality is a crucial aspect of climate action, requiring collaborative efforts to ensure that the most vulnerable populations have the necessary resources and support.
Despite international agreements, the translation of climate commitments into actionable policies remains a challenge.
The role of political will and the influence of powerful interests in shaping climate policy are ongoing areas of concern.
Advocacy for stronger climate policies, public pressure, and informed voting are essential tools for driving political change and holding leaders accountable.
Conclusion:
While the consequences of global climate change are undeniable, the latest developments in technology, policy, and global collaboration offer hope for a more sustainable and resilient future. The ongoing transformation towards renewable energy, climate adaptation technologies, circular economy practices, nature-based solutions, green finance, and collaborative policy initiatives demonstrates our collective commitment to navigating the challenges of the new normal. It is through continued innovation, dedication, and a shared sense of responsibility that we can build a world that is better equipped to withstand the impacts of climate change and create a more sustainable and equitable future for generations to come.