Digital transformation plays a vital role in elevating businesses by augmenting their operational efficiency.
Digital transformation is a systematic, innovative, and result-driven strategy enterprises leverage to meet their expectations. Digital transformation amplifies business performance in various ways.
Customers' expectations are constantly changing, business operations are evolving, and technology is booming; hence, businesses need to modify their approach and comprehend the customers' necessities.
As per the report of Markets and Markets, the digital transformation market size is forecasted to increase from $521.5 billion in 2021 to $127.5 billion by the end of 2026 at a CAGR of 19.1%.
Digital transformation has been infusing innovation into an array of businesses and delivering groundbreaking solutions to be ahead in this competitive digital sphere.
When it comes to the numerical number of digital transformations, it varies from $250,000 to a few million dollars.
This article serves as your roadmap in navigating the intricate landscape of enterprise digital transformation. We have carefully curated these invaluable resources to help you meet your expectations by elevating customer experience.
Benefits of Enterprise Digital Transformation
The adoption of digital transformation displays numerous advantages across an array of industries. Let's explore.
Competitive Edge
One of the advantages of leveraging digital transformation in business is creating natural communication channels for consumers. In this competitive realm, companies that execute integrated digital strategies gain smooth transaction processes, developing a more intuitive user experience.
Improved Decision-making
With the assistance of advanced digital transformation, businesses can make well-informed decisions. Accessing Real-time data and analytics enables enterprises to understand clients, processes, and market trends.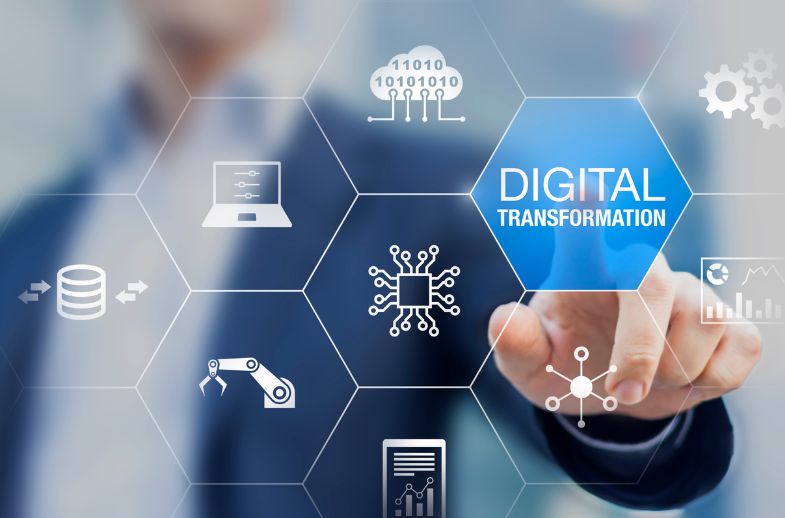 Augmented Innovation
Nearly every company around the world wants to be seen as innovative. The integration of digital transformation upgrades traditional patterns of operations and allows businesses to experiment with innovative ideas. It also changes a company's culture and image by challenging old norms.
It also helps in reaching targeted audiences strategically; for instance, utilizing cloud computing allows enterprises to scale up or down their operations as per their requirements.
Mitigate Risks
Businesses encounter several risks, such as cybersecurity threats, data privacy concerns, and regulatory compliances.
Digital transformation helps businesses in developing the right strategic decisions, which improves their core process and infrastructure. Technologies like AI and machine learning assist businesses in delivering seamless customer experience across physical and virtual channels. Cutting-edge technologies safeguard businesses by automating processes, streamlining operations, and analyzing data. Businesses experience improved forecasting accuracy due to technological advancement.
Augmented Employees Coordination and Collaboration
Digital transformation advances team collaboration as it provides a sophisticated and planned structure to work collectively. Tools like Asana and Microsoft Planner organize the tasks and enable employees to follow every stage of project completion. Employees can also perform any part of the role using VOIP systems and telepresence software, allowing them to achieve their target by encouraging team collaboration. Enterprise software development companies excel in providing cutting-edge solutions for corporate clients.
Cost-effective Approach with Profitability
When the systems are supported by advanced technology, businesses experience elevated efficiency and productivity. With the assistance of business software, companies can integrate all business processes, allowing professionals to evaluate every stage of operations, resulting in saving time and costs with performance-driven outcomes.
Read Also: Is Digital Transformation the Key to Business Success?
How to Create a Powerful Digital Transformation Roadmap
Developing a result-driven digital transformation roadmap is a challenging and strategic task. It requires overarching tactics, highly advanced technology, and a team of experts.
Experience the enhancement in your enterprise's performance as well as efficiency by following these steps:
Align Transformation with Business Objectives
Before moving towards digital transformation, companies need to maintain the balance between business objectives and transformation objectives; for instance, do you want to enhance operational efficiency or look for personalized customer experience?
Analyze KPIs
KPIs are invaluable components of business strategy, facilitating the discovery of how well your marketing strategy is going. KPIs are based on the S.M.A.R.T. acronym (specific, measurable, achievable, relevant, and time-bound). They allow businesses to understand the performance of your business so that you can make well-researched decisions to gain optimistic results.
Build Strong Workforce
Developing a digital transformation strategy demands a team of seasoned professional developers, impeccable designers, scrum masters, data scientists, and proficient thought leaders. A successful digital transformation roadmap is incomplete without skilled people, as they play a vital role in developing new strategies, building user-centric designs, and navigating the process of a project.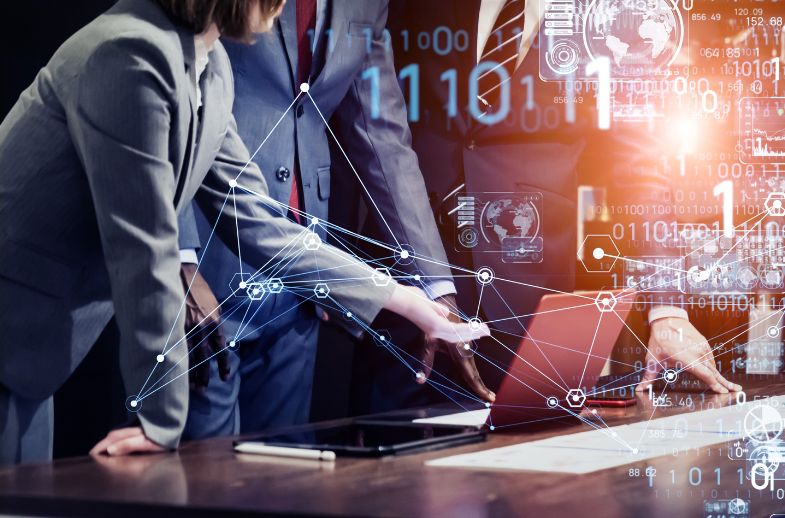 Develop A Tech Culture
There are various advanced technologies helping businesses to grow by meeting their expectations. But, discovering the right technology and encouraging the team members to comprehend it is vital. In this ever-evolving digital landscape, maintaining a regular training program allows team members to be updated and boosts their efficiency.
Allocate Time and Budget
Efficient planning helps minimize the digital business transformation cost for the organization. Businesses can conduct regular meetings to learn about challenges, which improve communications and mitigate the chances of delaying deliverables. Allocating a budget for a project displays a dedicated plan that pertains to project analysis, affordability of the organization, and future planning toward financial growth.
Read Also: The Automated Cell Counters Market to grace digital transformation curve
The Cost of Digital Transformation
Digital transformation is a vast subject that includes a company, its industry, technology, products or services, and clients' expectations.
Every transformation project is different, and the cost of it will vary as per the requirement. It holds a detailed research and analysis.
The cost of implementing digital transformation strategies varies from $ 250,000 to a few million dollars.
Challenges with Enterprise Digital Transformation and How to Overcome Them
The process of digital transformation is an amalgamation of planning, technology, and delivering customer necessities. During this process, stakeholders encounter some challenges. These challenges are discovering skilled technology talent, data breaches, and financial constraints.
We can efficiently overcome these challenges by detailing short and long-term objectives, comprehending the strengths and weaknesses of the business, analysing customers' behaviour patterns, and exploring technology trends. These strategic approaches allow you to navigate a sophisticated implementation and enablement of digital transformation, resulting in improving operational efficacy and driving positive ROI.
Bottom Line
Digital transformation doesn't just operate in a specific sphere; it paves the way by constantly innovating to elevate the standard of business operations and its credibility.
It helps both small and large businesses, which has become indispensable for those who want to gain a competitive edge in the next decade.
Connect with a reputable digital transformation services provider to discover strategic, comprehensive, and result-driven digital transformation tactics that allow you to meet your business expectations.