It is critical to secure your software and safeguard your data in the connected digital world of today. Threats that target software flaws and private data are evolving along with technology. By giving software security first priority, people and organizations may defend themselves against data breaches, cyberattacks, and privacy abuses. This protects the integrity and security of sensitive data while upholding the confidence of users and customers.
In an era where personal and financial data is rapidly being kept and sent online, ensuring the security of software and data is not only a moral and legal duty, but also a decision. This is so that unfortunate events like identity theft, monetary loss, and reputational harm can be avoided. Establishing a robust digital environment where people and organizations can prosper without worrying about their privacy and security requires strong software security mechanisms and data protection procedures. We've covered data protection and software security tips in this blog post.
Tips for Securing Your Software to Protect Your Data:
In the under section, we have mentioned some essential tips for securing your software and protecting your data:
Keep Your Software Updated
Regularly updating your software is one of the most straightforward yet effective ways to enhance security. Software updates often include vital patches and fixes that address known vulnerabilities. Hackers are constantly looking to exploit these weaknesses, so keeping your software upgraded is important. Many software, applications and operating systems offer automatic update options, which you should enable for added convenience and peace of mind.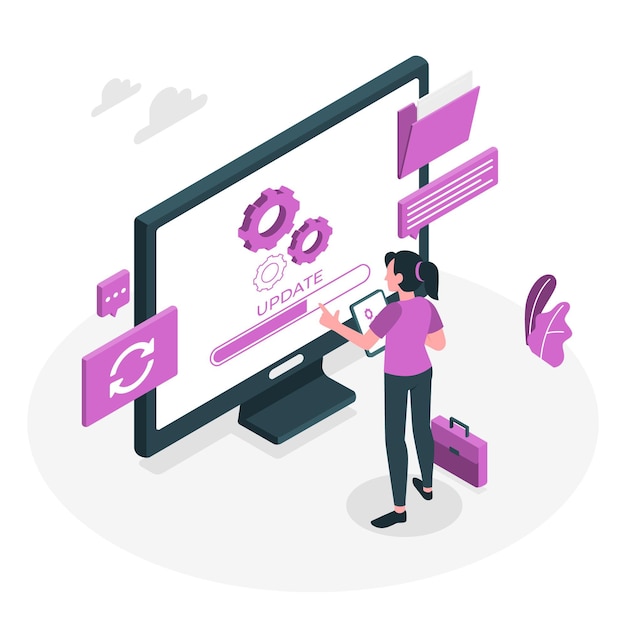 Strengthen Your Passwords
Your passwords serve as the first line of defense against unauthorized access. Crafting robust, unique passwords for each of your accounts and devices is essential. Usually, a combination of capital and lowercase letters, digits, and special characters make up a strong password. Avoid using easily guessable information, such as birthdays or common words. Using a passphrase – a sequence of random words – is an excellent way to create a strong yet memorable password.
Implement Multi-Factor Authentication
Adding multi-factor authentication (MFA) to your accounts gives them an extra security measure. Before giving access, you must present two or more kinds of identification. These typically consist of two elements: an object you know (your password) and an item you possess (a code attached to your phone or email). Enabling MFA significantly increases the difficulty of unauthorized individuals accessing your accounts by introducing an extra layer of security.
Read Also: Tips for Keyword Research for On-Page SEO
Use a Password Manager
Managing numerous complex passwords can be overwhelming. Password managers are secure tools that store and generate strong passwords for you. They streamline the process of accessing your credentials while ensuring your passwords are difficult to crack. Popular password managers include LastPass, 1Password, and Dash Lane.
Regular Data Backups Are a Must
Accidental deletion, hardware failure or malicious attacks are the main reasons for data loss. If you don't lose vital information, the regularly backup your data as it is the most effective way. You can use external hard drives, cloud storage solutions like Google Drive or Dropbox, or dedicated backup software to safeguard your data. Schedule automatic backups whenever possible to minimize the risk of data loss.
Exercise Caution with Email Attachments and Links
Cyber criminals still frequently use phishing attempts to deceive people into disclosing personal information. When you get unsolicited emails with attachments or links, be very wary, especially if they appear fishy. Check the sender's identification, confirm the message's legitimacy, and refrain from opening attachments or clicking any links unless you are confident in their legality.
Install Reputable Antivirus and Anti-Malware Software
To keep your devices safe from malware, viruses and other internet risks download reliable anti-malware and antivirus software. Make sure you choose security software from reputable providers and keep it up to date. Regularly scanning your computer for potential threats will allow you to detect and remove them early, minimizing potential damage.
Educate Yourself and Your Team
If you are a business owner or manage a team, providing education on security best practices is essential. Many security breaches occur due to human error, so investing in employee training to recognize phishing attempts, practice secure password management, and adhere to other security measures is invaluable. This education can help fortify your organization's defenses against threats.
Keep Your Wi-Fi Network Secure
Securing your Wi-Fi network is essential if you have one at home or at work. Use a strong, unique password for your network and employ encryption protocols like WPA3 to protect data in transit. Change default router login credentials to minimize the risk of unauthorized access. When working remotely or in public spaces, avoid using open or unsecured public Wi-Fi networks for sensitive transactions, as they can be vulnerable to eavesdropping and cyberattacks.
Regularly Monitor and Audit Your Systems
Regular security audits and proactive monitoring can assist you in finding vulnerabilities and fixing them before they are exploited. To evaluate the success of your security measures, identify any unusual activity, and fortify your defenses, plan regular security inspections.
Conclusion
It doesn't have to be difficult to secure your program and safeguard your information. You may greatly improve your digital security and lower your risk of becoming a victim of cyber dangers by paying attention to these ten crucial guidelines. Remember, the key to data security is vigilance, proactive measures, and an ongoing commitment to safeguarding your digital assets in an increasingly connected world. Your data's safety is worth the effort, and these steps will help you keep your software and data secure.