Central America is a beautiful land, and it is a paradise for students and backpackers. The volcanoes and breathtaking beaches attract tourists to explore the natural beauty. Unlike other regions in America, it is a warm and relaxing palace with fun activities to enjoy the journey. The area is full of beautiful beaches, Mayan ruins, reefs, cheap foods, and rain forests. The budget things depend on your preference and choice. In this guide, we will discuss tips for planning a budget -friendly trip to Central America.
Tips to Plan a Budget-Friendly Trip to Central America
Budget-conscious people such as students and backpackers always look for places with low costs to explore new places. Central America is the favorite place because there are inexpensive activities for tourists.
In the undersection, we have mentioned the tips to plan a budget-friendly trip to Central America. Read in detail below:
Avoid Peak Season
Generally, during the peak seasons prices of everything goes up and tour can be expensive, so research and plan your journey in the off-peak season. You should look into when it's most crowded and not so crowded and plan your trip based on that. In busy times, things can be more expensive, like hotels and local prices. But when it's not as busy, you can usually find cheaper places to stay and cheaper plane tickets. Also, think about going to places that aren't as popular with tourists because they're often more budget-friendly all year long.
Research Visa Requirements and Costs
A visa is the necessary documentation to visit any country. You may have to get permission from the embassy to visit central America. You can search about the off-peak season and know the visa requirement fee. Some countries let you enter without a visa or give you one when you arrive, while others need you to get a visa before you go. It's important to know what you need and how much it costs to avoid surprises.
Find Affordable Flights
If you want to save money while traveling, taking local buses is a good idea, especially if you're on a budget or backpacking. But sometimes, you might need to use airplanes. In that case, it's a smart move to check flight comparison websites like Google Flight search to see which airline has the best prices. Flights to Central America can cost a lot or a little, so it's important to be open to different travel dates and starting airports. It can help to fly into big cities like Panama City, San Jose, or Guatemala City, and then take cheaper airlines or local ones to get to your final destination.
Explore Budget-Friendly Destinations
Places with lots of people often have things that cost more. Look for spots where you can have fun without spending too much. In Central America, you have many options, and some are kinder to your budget. For example, Nicaragua and Honduras are cheaper to visit than Costa Rica or Belize. Check out smaller cities and towns that people don't know as much about. You can find cheaper places to stay and things to do while still enjoying the beauty of the region.
Stay in Budget Accommodations
If you pick luxury hotels or resorts, they cost more for staying the night and for meals. It's a good idea to think about staying in cheaper places like hostels, guesthouses, or people's homes. These options help you save money and let you meet other travelers and experience the local way of life. You can use trusted websites and apps to find good deals and read what other travelers say in their reviews.
Use Public Transportation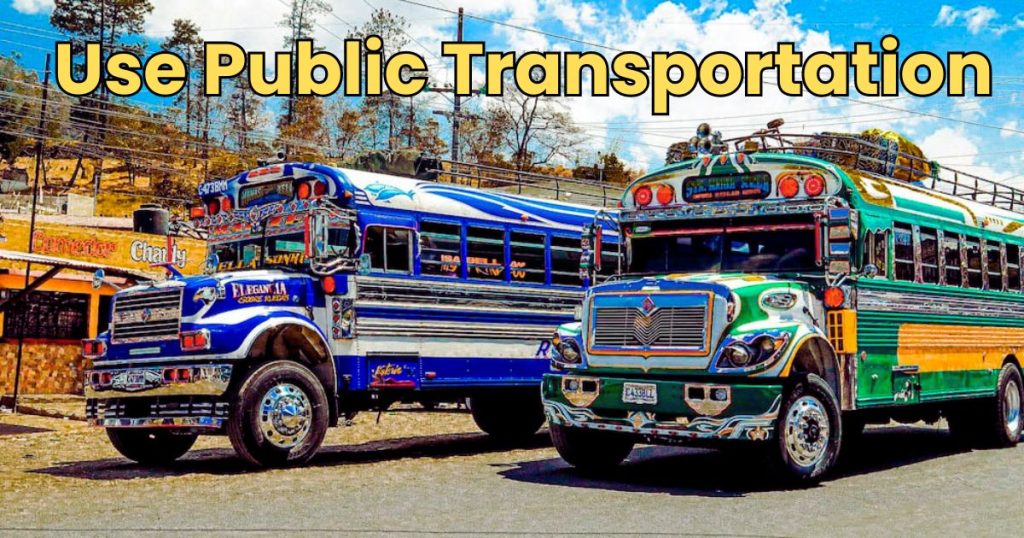 Public transport is available in the region that conveys people from city to city. If you hire a car or taxi for your transportation, they are expensive. Using public transport is the best option to save money on travel and enjoy the local journey. You can also interact with local people and learn about the culture and language that helps you during your trip. Unfortunately, there is no train system in the region but a shuttle bus service is available.
Eat from Local Stalls
Five-star hotels have fancy, expensive food that not everyone can pay for. If you're trying to save money on your trip, eating at these hotels can cost a lot. There's a smarter way to save money on food: try local places where they make fresh meals. Look for cheap restaurants and street food stalls to enjoy tasty dishes without spending too much. Sometimes, you can even cook your own meals, like breakfast and lunch, to keep your costs down. And don't forget to follow the local customs, like leaving a tip, when you eat out.
Engage in low-cost Activities
Central America has lots of amazing nature and cool things to see that will save you money. You can do free or cheap stuff like going for hikes, taking a dip in natural springs, and checking out local markets. You can join the group tours and shared accommodations and transportation which is budget friendly option. Another way to save money is to go on walking tours in the natural areas to see the animals and enjoy the beauty of the place.
Manage Your Money Wisely
The way money gets changed into the local currency and the fees you pay at ATMs can impact how much you spend. It's smart to find out where you can exchange money with low fees and use ATMs that don't charge you too much. For bigger purchases, think about using credit cards that don't add extra fees for international transactions. And always have some of the local money on hand for small things and places that might not take cards.
Conclusion
Central America is a favorite destination for budget conscious people to explore a new place and try outdoor activities. If you want a budget-friendly trip, consider off peak seasons to save money on accommodations and other aspects. Research and choose a budget-friendly destination where you can try fun activities and use public transport instead of a private car or taxi. Try a walking tour or join a group to share the price of accommodations and transportation. You can also save money if you eat street food instead of luxury hotels.