In the grand tapestry of societal influence, few cultural mediums have wielded as much power and significance as the world of cinema. Movies, beyond being mere entertainment, serve as a mirror reflecting and shaping the collective consciousness of societies worldwide. From fashion trends to language, social norms to technological innovations, the impact of movies on pop culture is a multidimensional and ever-evolving phenomenon. In this article, we have mentioned the impacts of movies on pop culture and society.
Impact of Movies on Pop Culture of Society
In the under section, we have mentioned he impacts of pop culture of society:
Fashion Forward: Cinematic Couture
Movies have a transformative effect on fashion, turning costumes into cultural icons and shaping the trends of their times. Think of the glamorous allure of Marilyn Monroe's white dress in "The Seven Year Itch" or the timeless sophistication of Humphrey Bogart's style in "Casablanca." These cinematic moments don't merely captivate audiences; they imprint themselves onto fashion consciousness, influencing designers and enthusiasts for generations.
Verbal Vistas: Dialogues and Catchphrases
Beyond visuals, movies contribute significantly to our linguistic landscape. Iconic movie lines like "Here's looking at you, kid" from "Casablanca" or "You can't handle the truth!" from "A Few Good Men" have transcended their original contexts to become part of everyday language. These catchphrases encapsulate cultural moments, finding resonance in conversations across diverse demographics.
Read Also: What is VegaMovies, and Its Best Alternatives?
Cultural Kaleidoscope: Diversity and Representation
Movies possess the transformative ability to amplify underrepresented voices and promote cultural diversity. Films like "Moonlight," "Slumdog Millionaire," or "Roma" not only captivated audiences but also shone a spotlight on marginalized communities, fostering empathy, understanding, and advocacy for diverse narratives in the cinematic landscape.
Trends and Tribes: Fandoms and Hobbies
The influence of movies extends beyond the screen to cultivate vibrant subcultures and fandoms. From the fervent Harry Potter fanbase to the dedicated followers of the Star Wars saga. Movies create communities that transcend geographical boundaries. These fandoms birth hobbies, conventions, fan fiction, and a vast array of creative expressions that perpetuate the cinematic legacy.
Mirror of Society: Social Commentary and Awareness
Movies often serve as powerful tools for societal introspection and commentary. They confront pertinent issues, provoke thought, and drive social awareness. Films like "Do the Right Thing," "Get Out," or "The Social Network" navigate complex societal landscapes, challenging norms and sparking crucial conversations on race, identity, technology, and human behavior.
Wanderlust Woven: Tourism and Destinations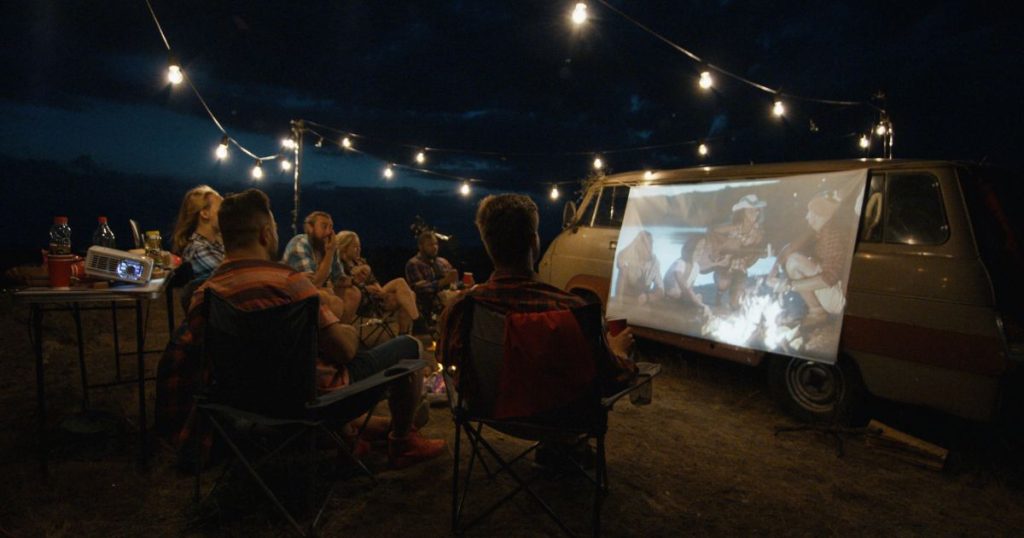 The mesmerizing locales depicted in movies catalyze tourism, inspiring wanderlust and driving travelers to real-world destinations. The majestic site of "The Lord of the Rings" in New Zealand or the enchanting allure of Hogwarts from the Harry Potter series draws movie enthusiasts on pilgrimages to experience the magic firsthand.
Innovative Imprints: Technology and Inspiration
Movies, particularly within the realm of science fiction, have an uncanny knack for predicting and inspiring technological advancements. Concepts and gadgets showcased in movies often fuel the imagination of scientists and inventors, spurring real-world innovations. The communicators from "Star Trek" foreshadowing smartphones or the holographic interfaces in "Minority Report" are testaments to cinema's ability to inspire technological progress.
These advancements not only shape our daily lives but also have a profound impact on various industries. For instance, the entertainment industry has embraced virtual reality technology, allowing viewers to immerse themselves in a whole new world of storytelling. Additionally, the medical field has been influenced by movies like "Iron Man," with researchers developing advanced prosthetics inspired by the fictional character's suit.
Emotional Echoes: Cultural Memories and Impact
Movies create lasting emotional imprints, shaping our memories and impacting our lives in profound ways. Whether it's the tear-jerking moments of "Schindler's List" or the exhilarating heroics in the Marvel Cinematic Universe. These cinematic experiences become intertwined with our personal narratives, influencing our perspectives and cultural references. The emotional echoes of these movies can be seen in the way they spark conversations and discussions among friends, family, and even strangers.
They become a shared language that connects people from different backgrounds and experiences, fostering empathy and understanding. These cultural memories shape our individual lives and contribute to society's collective consciousness. It leaves a lasting impact on how we perceive the world around us. 
Conclusion
Movies transcend the boundaries of mere entertainment; they are cultural touchstones that shape our identities and societal values. Their influence on pop culture is a dynamic interplay between storytelling, imagination, and societal reflection. From setting fashion trends to igniting social movements, movies serve as a canvas where creativity meets cultural impact.
As we negotiate the ever-changing cinematic world, let us recognize and appreciate movies' widespread effect on creating our collective consciousness and pop culture. Their legacy continues on, leaving an everlasting imprint on our lives and creating the cultural mosaic of future generations. The persistent influence of movies on pop culture attests to the transformational power of storytelling and its profound resonance inside the social fabric.