Learning a new language from a young age opens up a world of opportunities and enhances cognitive development and cultural understanding. Teaching children a new language can be a rewarding experience, but it requires effective methods to make sure successful language achievement. It requires children to analyze language structures and rules, which can enhance their analytical thinking abilities. Multilingual children often become more adaptable and flexible in their thinking as they switch between languages and adapt to different language contexts. Knowing additional languages makes travel more enjoyable and less intimidating. It helps children to communicate with locals and immerse themselves in new cultures more easily.
In this blog post, we have explained the complete easy methods for helping children learn a new language.
Methods for Helping Children Learn a New Language
The method for helping children learn a new language is discussed below:
Start Early
One of the most effective ways to teach children a new language is to start early, ideally during their early years of life. Young children are like sponges, absorbing language and culture naturally through immersion. If your family is fluent or multilingual, regularly use both languages at home. Children will naturally pick up the languages through exposure. Enroll your child in language playgroups or classes where they can interact with other children and engage in language-rich activities. Provide age-appropriate books, songs, and TV shows in the target language. Interactive and colorful materials capture children's attention and make learning fun.
Speak It Too
For language achievement to be successful, children need a language-rich environment where they can explore, experiment, and communicate. Try to say communicate them with the targeted language such as saying hello and goodbye. Label objects around the house with their names in both the native and target languages. It helps children's associate words with real-world objects. Try to encourage storytelling in both languages. Share stories from your cultural background and explore from the target language's culture. Try to incorporate the new language into daily routines, such as mealtime, bath time, and bedtime. Use phrases and vocabulary relevant to these activities. Engage in playtime activities that promote language learning, such as puzzles, building blocks, and board games available in the target language.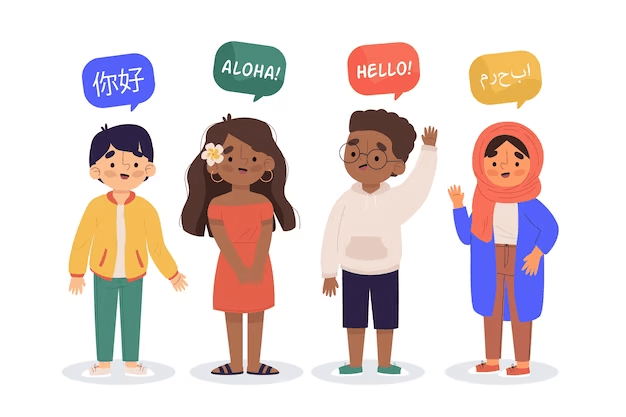 Consistency Is Key
Consistency is very important when teaching children, a new language. Regular exposure and practice help support language skills. Establish a language-learning schedule that includes daily or weekly language sessions. Consistency makes language acquisition a habit. Find language partners or friends who speak the target language. Playdates or virtual conversations with native speakers can be highly beneficial. Influence language-learning apps and online resources designed for children. Many interactive apps and websites make language learning engaging.
Read Also: 10+ Ways to Keep Learning New Skills in a Remote Job
Encourage Communication
Active communication is essential for language development. Try to encourage your child to communicate in the new language through and also engage your child in conversations in the target language. Ask open-ended questions to encourage them to express themselves. Please inspire your child to create their stories or retell stories they've heard in the new language. It enhances creativity and language skills. If possible, arrange pen pal exchanges with children who speak the target language. It provides a huge context for communication. Arrange playdates with native speakers or other children learning the same vocabulary. Social interaction helps to improve language skills.
Games and Activities
Learning a new language should be enjoyable and engaging for children. Include games and activities that make language learning fun. Create flashcards with pictures and words in both languages. Play matching games or use them for vocabulary quizzes. Explore language-specific games like word searches, crossword puzzles, and memory games. These games build vocabulary and reinforce language rules. Sing songs, nursery rhymes, and folk songs in the target language. Dancing to music with catchy lyrics is a great way to encourage language use. Introduce cultural activities related to the target language. Cooking traditional dishes, celebrating festivals, and exploring customs enrich the language-learning experience.
Be Patient and Supportive
Learning a new language can be challenging, and children may face moments of frustration. It's essential to be patient and supportive throughout the language-learning journey. Praise and reward your child's efforts and progress in the new language. Positive support boosts confidence. Let your child know that making mistakes is a natural part of learning. Please boost them to learn from errors rather than fear them. Avoid pressuring your child to become fluent quickly. Language learning should be enjoyable and stress-free. Model interest for language learning by learning along with your child. Share your language-learning journey together.
Explore Cultural Connections
Learning a new language is also enhance culture connection with that language. Attend cultural events, festivals, and exhibitions related to the target language. Try to encourage your children to attend culture's rich festivals and see their traditions. Explore the food of the culture and their environment because it will help to enhance their tone of that language. Cooking and sharing meals from the target culture can be a pleasant learning experience. If possible, plan trips to countries where the target language is spoken. Traveling experiences can accelerate language achievement.
Monitor Progress and Celebrate Little Efforts
Celebrate your child's language-learning little efforts to keep them motivated and excited. Recognize and reward achievements such as completing a book in the target language, mastering a set of vocabulary, or holding a conversation. Make sure to explore language resources and materials designed specifically for children. Libraries, bookstores, and online platforms offer a wide range of books, videos, and games. Keep track of your child's language-learning progress. Regular assessments and observations help identify areas that may need more focus or improvement.
Conclusion
In conclusion, helping children learn a new language is an exciting journey that can enrich their lives and broaden their prospects. By starting early, creating a language-rich environment, maintaining consistency, incorporating games and activities, encouraging communication, being patient and supportive, exploring cultural connections, celebrating milestones, seeking language resources, and monitoring progress, you can make the language-learning experience enjoyable and effective. Language learning is a process, and each child's achievement pace may vary. Be flexible and adaptable in your approach, and most importantly, enhance a love for language and cultural exploration that will last a lifetime.