ROBLOX is infamously known to be one of the top-tier games of all time with its metaverse-like gameplay that lets you create your own world. This game has now risen to become one of the most downloaded games, and it might take over Minecraft very soon. But what if we tell you that instead of downloading Roblox, you can play ROBLOX online with a simple trick?
Like every other popular game, you can also play ROBLOX online right from your device's web browser. Playing this game is fairly easy, and it is free to initially start the game. However, as you progress through the game, you can purchase stuff for real money, make exchanges, and make other in-app purchases.
To explain things more properly, we have written this detailed guide for you on how to play ROBLOX online by following a few easy methods. The method that we are going to share can be applied on any device as long as it has a web browser.
What is ROBLOX?
ROBLOX started as one of the most famous games for desktop PCs from the early days of Windows PC gaming. This game was introduced back in 2006, to be exact, and ever since its release, ROBLOX became a competitor of Minecraft. Even though there are hundreds and thousands of players in both communities, Minecraft is still more recognizable to many.
Why is ROBLOX So Popular?
Roblox currently has more than 500 million downloads only on Android's Google Play Store. And if we talk about collective downloads, we can easily reach the billion mark without a doubt. This is how popular this game has become over the past few years.
The graphics and gameplay offered by this game are not very appealing. Although it's the gameplay for which people die. It's more of a simulation that gives the players the freedom to explore while making their own world across the game.
Due to the rising popularity, you can now play ROBLOX online through their official site or a third-party platform. It's fairly easy, it is free to play, and you can get the hang of it pretty easily. Let's get into the guide on how you can play this game.
How to Play ROBLOX Online?
Here, we have mentioned the step-by-step methods to play this game online without needing to install anything except the web browser.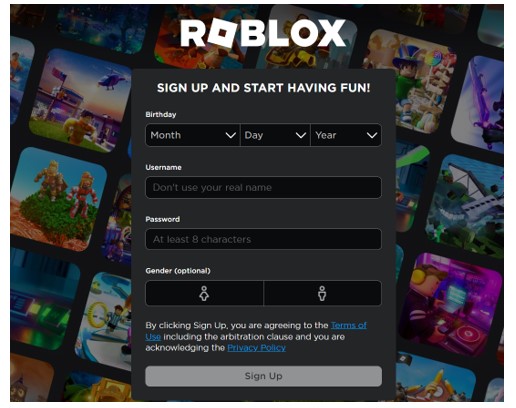 Open a web browser on your device, and it could be Mozilla Firefox or Google Chrome.
Go to the Minecraft's game section website or simply search for it in the search bar above.
The game will be pretty easy to find since it's the name of the website. Once you have found the game, click on it.
Then click on the green play button to run the game on your browser.
The game will redirect you to the sign-up page, where you have to create an account by adding your credentials.
Alternatively, if you already have an account, simply click on the Login button from the upper right corner of the screen.
Once you have signed in successfully, the new pop-up will appear, indicating that the Roblox installer is downloading.
After the Roblox installer downloads, a new pop-up will show you the range of games you can play.
Select any game and click on the green play button.
A secondary one-time pop-up will appear on the screen asking for your confirmation. Select that, and you will be able to play the game without any interruption in the future as well.
Is ROBLOX Free to Play Online?
Yes, ROBLOX is completely free to play, but the items that you can buy in the game may cost you. For example, if you are buying a skin or a carriable item, then you may have to pay real money for it. A lot of players confuse the in-app purchases for the actual game. Again, ROBLOX is only free to play or download once you have signed up. Anything you purchase in the game will cost you.
How to Install Roblox Studio?
ROBLOX Studio is the place where you might have to spend some real money. The studio lets you get a personalized experience in the game by making your own simulation. Here is what you need to do to download it.
Go to the Roblox Website and log in with your account.
If you don't have an account, you may have to create one using your credentials.
After logging in with your account, go to the 'your experience' section in Roblox. Click three dots in the upper right corner of the screen.
Select 'Edit' and wait for a few seconds.
A new pop-up window will appear, showing that your Roblox Studio is downloading.
Once the downloading of Roblox Studio completes, it will run automatically.
What Can You Do with ROBLOX Studio?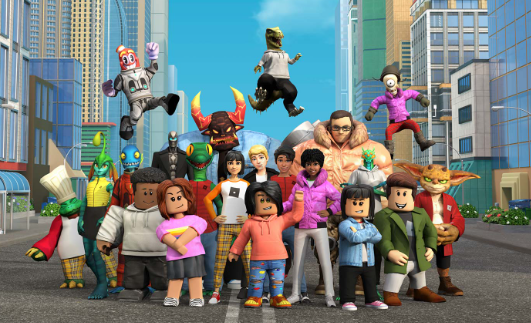 ROBLOX Studio gives you the freedom to explore the features of the game and create a simulation that suits you well. The online world of ROBLOX is so famous because of its servers offering players to make their own games, set their own rules, and have their own space. All of this creation is brought to reality using the ROBLOX Studio, and it is free to access for everyone.
Conclusion
If you want to play ROBLOX online, then you have nothing to pay for, and the game can be accessed with a simple registration account. The in-app purchases in the game are the ones that cost you real money, which is why people spend a fortune on it.
Many franchises have combined with ROBLOX to promote their brands. Now, the game is ever-growing with a new audience and lets everyone experience the best of what it has to offer with the new servers and features.