As the passion for traveling grows, most people utilize travel blogs to know about the destinations, hotel reviews and local culture before planning the journey. Travel enthusiasts are always searching for the best place that suits their preferences and needs according to budget. Traveling is the source of relief from a boring routine and trying new adventures to have some enjoyable moments in life. But if you do not have proper knowledge of your visiting destination, it may be daunting to create your travel itinerary. In this guide, we will provide information about travel blogs that provide accurate information about traveling.
What are Travel Blogs?
Travel blogs refer to a person or travel companies that provide information about traveling tips, places, and accommodations. They gathered information from their experience or expert reviews to provide ease for travel enthusiasts to be hassle-free, and they can choose the best destination that fits their needs. Travel blogs have Internet visibility and a user-friendly interface to read about their experience and learn about different places and cultures.
Best Travel Blogs to Follow
Most people have traveling passion, and they write about their experiences after the journey, and it is hard to know which one is providing accurate detail and accommodations. So we have short-listed the best travel blogs that help you to make know about destinations and plan your journey.
Read in detail below:
Most people are searching for budget places and tips to save money on travel. The Nomadic Matt helps with every question from travel regarding budget and cheap traveling tips. With his personal and proven strategies and experiences. If you have to plan your journey within budget or looking for cheaper traveling tips. Then you can follow Nomadic on his website.
He started his career in 2008 and still helping people to make the most of their journey. Nomadic is also an author at the New york times and a solo traveler enthusiast.
The real platform for the backpacker to learn about the basics by the experience of Will Hatton. Will Hatton is a backpacker enthusiast and travel blogger that keeps his audience informed about the techniques of backpacking to try an outdoor adventure. He also provides tips about budget backpacking.
He visited the most scenic and difficult paths around the world, and most of them he visited on his bike and making it easy for other adventure travelers to plan their journey. With Will's proven strategies for budget travel and backpacking, you can get ideas on how to plan your itinerary to start the journey.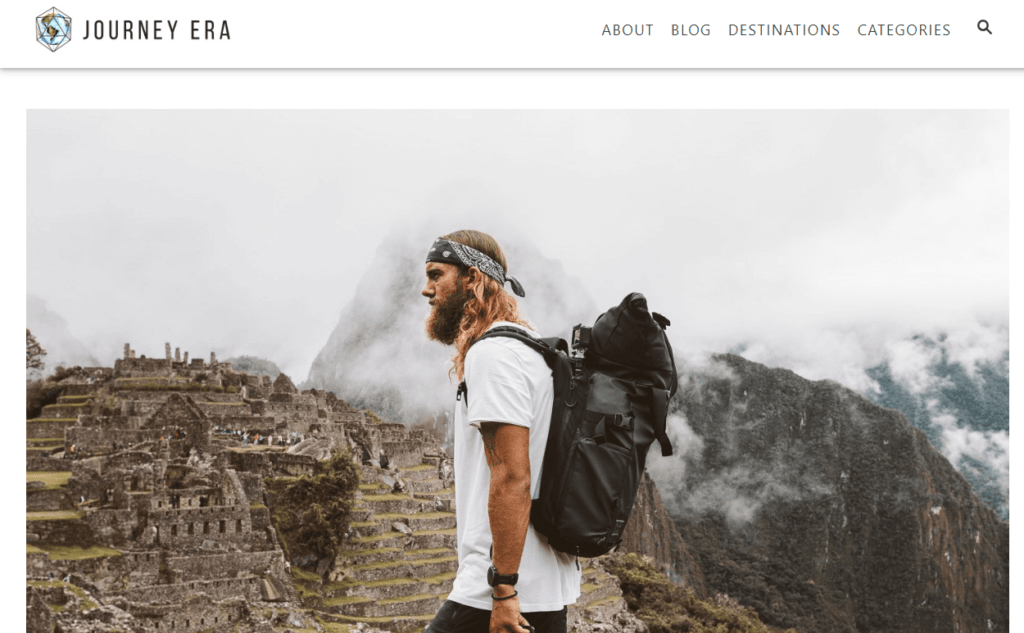 Jackson Groves completed his degree in journalism, but his passion for exploring the world took over his degree, and he started the world tour and wrote about the best adventure places around the world. He has an amazing sense of photography, and he always captures the audience with his travel photography.
Jack lives in Ohau, and he embarks on his first tour to Indonesia and creates his blog to share his photography and traveling experience. He provides information about hiking, snorkling, kayaking and many adventure journies that keeps you healthy.
The beautiful couple Nick and Hannah are inspirations for the couple tours and the best vacation ideas to spend quality time with loved ones. They visited many of the world's beautiful places that offer breathing taking views and calm weather to get some relaxation.
They started their journey on Instagram and later as travel bloggers in 2016 to show the new face of the world for the people who are just stuck in 9 to 5 jobs. The couple has created many stories about their journey experience and shares beautiful photos and videos with the other travelers. This blog is the best choice for people who want to spend vacations in beautiful places.
Y travel blog is a blog by an Australian couple named Caz and Craig Makepeace. They inspire travel enthusiasts with their traveling experience from around the world. If you have to follow a family travel blog then this is the best choice for you.
They are now living in North Caroline, and they started traveling in 1997 as a couple, later with their two daughters in 2007; after 2010, they started their travel blog. They provide the best content about traveling throw their words, photography and videos. Y Travel Blog covers a vast array of travel topics, from exotic destinations and off-the-beaten-path locales to family travel, road trips, solo adventures, and more.
This a blog for solo women travelers that help you to get inspired and start your journey without any stress. Kiki started the journey in 2011 as a solo women travelers to explore the world. She sacrificed his job in corporate wealth management in California for traveling.
Kiki shares his personal experiences of her journey with other women travelers to inspire and start their journey. She has visited almost 70countreis in the world; she exposes many aspects of traveling on her website and also with photography. She thinks that life is not only about doing daily routine work and, after that, sleeping but embarking on a journey and exploring the world.
Adventurous people will love to follow Tom, a Netherlands citizen and avid traveler. He has visited almost 160 countries around the world and shares his opinion about every aspect of traveling and the difficulties of journeys. He is consistently getting around the world and living a nomadic life for 11 years.
One of the best adventure nomadic travel blogs that help to create your adventure and alone traveling itinerary. His dream is to inspire other travelers to get out of their comfort zone and lives life in a new style. Tom also thinks that life is about staying happy by doing something new and big. If you have a passion for the thrilling journey, then it is the best choice.
Travel Guide Book is the best source to get accommodations on the best places for vacation and family trips. This blog is owned by Fawad Malik, who visited many Asian counties. He started this blog a decade ago and wrote passionately about the best destinations. Travel Guide also has many other writers from around the world who provide accurate information about hotels, and hostels. They also offer sustainable travel and budget friend travel tips to provide ease for travel enthusiasts. You must follow this blog to be updated about traveling ideas and accommodation from the expert team of the travel guidebook.
Conclusion
Travel blogs are an online platform that helps people research and get information about places and accommodations. If you have to start the journey but are confused about how to create the itinerary, travel blogs provide you with information from their experience and expert reviews to eliminate your stress. You can get information about travel tips and budget-friendly accommodations around the world to have a stress-free journey. They also provide information about solo and adventure travel, whether you are men or woman travel. You can follow the blogs mentioned above for accurate details of traveling.